Can you hear a clicking noise from under the keyboard of your laptop or the tower of your desktop computer? Have your files seemingly disappeared from your computer? Perhaps you know someone who has at some stage accidentally restored their computer to the state at which it came from the factory where it was made. In any case, these are just some of the scenarios that hard disk recovery can come in handy for.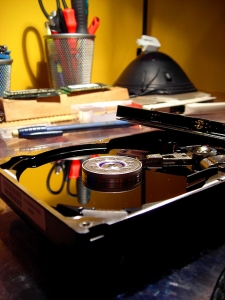 Being proactive and quick in finding a solution will give you the best possible chance of recovering from a failure of the hard disk in your computer. Hence if you have a problem with your PC that you cannot diagnose yourself or it is making a noise that it shouldn't for instance then we recommend you to bring it to an expert immediately. NOTE: If the machine is turned off once you have already noticed the problem, it can be beneficial to leave it off until an expert can have a closer look. The course of action to take in fixing a Hard Disk (HD) can vary depending but one factor is the make and model of the computer and what HD it uses inside of it. The PC manufacturers (Lenovo, HP, Compaq, Asus, Acer, etc.) will have discs that came with it when you bought it. These discs can also be made at any stage on the computer prior to a potential HD failure. They can then come in handy if the HD fails. The manufacturers of the HD itself more than likely will also have software that can be downloaded and used to analyse the health of the HD.
You would be surprised the state of some disks that can be recovered. Parts of them can be burned in a fire and the essential parts can still be recoverable. In some cases it may not be possible to get everything off and in this scenario we would endeavour to get off as much as we can while keeping you informed of what you can expect to get back.
As always, prevention is better than a cure. It can happen that the factory that made a computer or hard disk sends out a faulty part so check any warranty that you might have. Also bear in mind good practices. Turn on and off your PC properly, usually from the start menu unless you're using Windows 8 or 8.1. Storing files in unusual places on your computer can complicate matters, especially when it comes to data recovery off the hard disk. So keep a good folder structure and install applications in the recommended locations.
This is just a small article on Hard Disk Health and Recovery. No matter if you have one laptop or a whole organisation of computers, we have the expertise to maintain your IT and fix any potential HD failures, amongst other issues. Thanks for reading!
———————————————————————————-
If you are suffering from this or any other problem please don't hesitate to call one of our qualified engineers. We will be delighted to help.
021-4642096 
Business Hours: Monday – Friday 09:00 to 17:30